Back to Doctheshow.com

Docoween Haunted House

Back to Christmas

Happy New Years

New Years Hosted by Rod

Happy Thanksgiving Day

Easter Sunday

Baptism

July 4th Weekend Celebration

Search for Christ

Mothers' Day

Happy Fathers' Day

-----------------------------------

More About the Host

Home Page

4TH OF JULY WEEKEND

May Party Hosted by Rod

Virus Post by Rod

Exceptional Games

Veterans'Day Defeat>Hate

Dance American Redskins

Talent Quest Search

Been Sick, Dance, To End

222, Search For Christ

Docoween Haunted House

Let the Sun Shine In

Christmas

News by Topic Trending

Law Studies Law Research

ElectionNight-AfterParty

RA, The After Life


Grown Folks Presidential Library located in United States of America. Tour open today.
Kids have their own Web site. Now Grown-folks have theirs. Not a kid anymore. No thanks. Sorry, you not educated enough on the issues to get on this site yet. Read a little more. Get back. This Website is a destination and tailored for Grown Folk, Rod. If you are not Grown, 18+, you may ask your mom, your dad, or your grown-guardian(s) first, are you grown enough, before touring this site.
PrivacyContactDisclaimer

Kids have their own Web site. Now Grown-folks have theirs. Not a kid anymore. No thanks. Sorry, you not


educated enough on the issues to get on this site yet. Read a little more. Get back. This Website is a destination and


tailored for Grown Folk, Rod. If you are not Grown, 18+, you may ask your mom, your dad, or your grown-


guardian(s) first, are you grown enough, before touring this site. Rod does not collect or sell data from your visits or


usage of this Website. This Website is under US Law, and does not authorize its use in the E.U., other countries,


which develop draconian internet laws in past, hence-forth, present, or future. If you have downloaded his cite


without authorization, or in violation of its policies, you may close the content, and not use.


Designed by Rodney Jackson
Nevada 89036

Callrod@live.com
Professional Experience and Studies
University of Nevada Las Vegas; BBA., Bachelor of Science in Business Administration, Real Estate. University of Nevada Las Vegas, 4505 S Maryland Pkwy, LV, NV 89154
Minor Business Law Administration University of Nevada, Las Vegas, 4505 S. Maryland Parkway, Las Vegas, NV 89154 ~Business Law minor gives you an insight on how judges and lawyers interpret the law. BLW 302 Legal Environment of Business BLW 101 Personal Law BLW 273 Business Law I BLW 331 Real Estate Law I BLW 375 International Business Law BLW 431 Real Estate Law II BLW 450 Law of the Internet BLW 474 Business Law II
Paralegal Studies Certification UNLV Certificate, awarding 7.2 CEUs. University of Nevada, Las Vegas, Division of Educational Outreach, 4505 Maryland Parkway Box 451019, Las Vegas, Nevada 89154-1019 Phone: (702) 895-3394 FAX: (702) 895-4195
Tort Law Substantive Course Completed
Contract Law, Intellectual Property Law and Business Law Substantive Courses Completed.
US Military Veteran US Air Force Red Horse, Special Operations Forces
Honors Award: Honorable Discharge Air Force, Good Conduct Ribbon
Website Disclaimer Privacy Policy and User
This Website is not responsible for the creation or maintenance of linked Websites; external or third party internal links, lists, or scripts. This Website and affiliate/do not vouch for the accuracy, completeness, to warranty of any kind, express or implied, including any warranty of performance, merchant-ability, fitness for a particular purpose, implied warranty of quiet enjoyment, warranty of non-infringement, or currency of any of the materials on this Website and other linked Websites.
The Websites linked from this Website are not under the control of this Website. This Website does not assume any responsibility and/or liability (inclusive of vicarious liability) for any communications or materials available at such linked sites. This Website does not regulate or edit material on linked Websites. A link does not mean endorsement. It is normal for Linked Websites to have downtime and may be removed at any time. Any affiliate/marks will be removed and no longer used at request.
Many pictures are licensed through affiliate of/or GoDaddy.
In addition, this Website is not a licensing agency, professional organization, trade association, or independent testing service, makes no claims to the qualifications of suppliers or authors, and does not warrant the quality of services or information provided by any supplier or author.
This Website is not a booking agent and users should make sure all international tours and purchases are within the US Laws, US travel restrictions, and US travel warnings ...enjoy all Travels with due care.
Research and Development - R&D.
You agree that you will not in any way bypass or circumvent This Website protected areas.
Only information that is needed for commission purposes may be collected by the use of tracking devices, 'bots", robots, or other tools without this Website written consent.
Spyware is prohibited. Key stroke reading is prohibited. Researchers should be aware that Internet use, emails, works in process on your personal web use / server can be accessed by third parties by reading your key strokes or with dual-screening technologies.
If "Confidential Information" is obtained, you agree not to disclose or disseminate the confidential information without this Website prior written consent. You must be 21 years old to use this Web site and features. However, the information is suitable for those under 21 with the permission of a parent or guardian. If you are under thirteen, you must abide by laws detailed in the Children's Online Privacy Protection Act of 1998 - 2012. In compliance, this Web site does not collect data to identify persons, or locate persons, nor allow interest-based advertising or re-marketing, nor data mining of users.
Any animation, cartoons, games, cartoon or under 21 videos are geared toward those over 21 that watch such. Children photos, mostly of Rod, are used for historic documentation or visual aesthetics geared to grown folks and not to solicit those under aged of appropriate viewing. 404 Error (Page Not found) Message 45-1551==1. (File not found. The URL you requested was not found.)
Sorry for the inconvenience. These pages were part of research (&) development at this Website and are out of date. Cache, View as HTML, Similar pages and additional information in search engines linked to these pages should not be used. This information is out of date and may not be reliable for business purposes.
This Website is neither affiliated with the contents stored by search engine cache pages nor responsible for them being updated. It would be better to use one of the new current links available.
Appendix available by written request only.
"Public Website Address Summaries to Search" will take users to external websites that are not affiliated and can be removed by email or regular mail request at the owners' request. Please notify us, if you are the owner or agent for the owner and your address information will be removed.
According to United States law, neither this Website nor any underlying information or technology may be downloaded or otherwise exported or re-exported (i) into (or to a national or resident of) countries to which the United States has embargoed goods; or (ii) to anyone on the U.S. Treasury Department's list of Specially Designated Nations (Current FTO list) or the U.S. Commerce Department's Table of Denial Orders ((The Denied Persons List). By downloading or using any element of the Website you are agreeing to the foregoing and you are certifying that you are not located in, under the control of, or a national or resident of any such country or on any such list. You may not access, download, use or export the information, software, products or services contained on this Website in violation of U.S. export laws or regulations, or in violation of any applicable local laws or regulations.
This Website does not intend links, lists, on this Website to be referrals or endorsements of the linked entities. Non- or unaffiliated links are provided for research, convenience, educational purposes, and information.
Before making any decision or taking any action that might affect your personal finances or business, you should consult a qualified professional adviser who understands your particular factual situation. For legal advice, you should contact a licensed Attorney. The information provided on this Website does not constitute legal advice.
You may report any suspected fraud to the Federal Trade Commission, Security Exchange Commission, your Office of Attorney General or local law enforcement. This Website does not permit copyright infringing activities and infringement of intellectual property rights on its Website, and will remove all content if properly notified that such content infringes on another's intellectual property rights.
Thus, limitation of remedies and liability does exist; neither this Website nor anyone else who has been involved in the creation, production, or delivery of this Website and material shall be liable to you for any damages of any type, including but not limited to, any lost profits, lost savings, loss anticipated benefits, intentional infliction of emotional distress, puffery, special or other incidental or consequential damages arising out of the use or in-ability to use such Website.
This Website uses due care in performance. Users excuse all parties from liability from any unforeseen events beyond the control of parties that prevents them from performing their obligations under this agreement. For example, natural disasters and other "Acts of God", war, governmental actions, death, the failure of third parties-- to perform their obligations to the contracting party, or any other event that is beyond the reasonable control of such party.
Prohibited Activities. In respect or in relation to any Website (or portion thereof) used by You in connection with Your participation this Website. You may not engage in any activity that is or constitutes, or that involves, facilitates, advocates or promotes, one or more of the following: (a) discrimination on the basis of race, ethnicity, gender, religion, sexual orientation, age or disability; (b) libelous, defamatory, threatening, harassing, tortuous, or similarly abusive activities; (c) offer obscene, pornographic, sexually explicit or similar activities to the general public in an open unprotected forum; (d) illegal gambling; (e) sale, export or use of illegal substances; (f) terrorism, sedition or other illegal activities; (g) MP3, MPEG and/or other proprietary materials for download, sale or otherwise, in any case without the permission of the owner of the Intellectual Property Rights (h) purposefully violate any law or regulation or any Intellectual Property Rights or other rights of any person or entity; (i) purposefully harm to minors in any way; (j) impersonation of any person, including any representative, or misrepresentation of affiliation with any person; or (k) conducting of raffles, contests, lotteries or sweepstakes. Affiliates allowing online auctions of fake copies of goods, counterfeit bags and perfumes, and illegal copies are prohibited; any company doing such may be held liable in the international market place.
You represent, warrant and covenant that your businesses and activities will not purposefully cause, nor could cause, This Website or any Web site with which you have entered into a tracked engagement to be or become subject to any law, rule or regulation adversely affecting This Website or such Site, and you shall defend and indemnify this Website and such Websites against any such adverse effect.
This Website does not make any warranties or guarantees to drive traffic to any Websites.
Nothing herein shall restrict either party from entering into any agreement with similar to or competitive
The content owner is not liable for any alleged infringement not proven in a competent court of law, and first given notice to cure within a reasonable time. The place of notice, jurisdiction, litigation PO BOX 364055, Las Vegas, Nevada 89036 Attn: Rodney Jackson. Any disputes are resolved first through notice by letter, in-person conversation, negotiation, consideration, and then by mediation through arbitration chosen through AAA Adr.org.
-------------------------------------------------------------------------------------------------------
it is called the government, with a twenty-one trillion-dollar debt. They stifle American internet innovation just like their ideas bankrupted the American government and now ask social media to abide by European laws with people lacking the same creative innovation to invent as they do. World Debt Clock Public Debt to GDP Ratio. USA Debt Clock


Qualifier, Rod: Expert in creating Twitter List, Website Portals, and the functionality of Social Media in those Areas. Rod often writes in third-person-self so it is he speaking when he uses "Rod" this or that.
Rod will use the book: Criminal Law, Concepts and Practice, Second Edition, Carolina Academic Press, Authored by Ellen S. Podger, Peter J. Henning, Andrew E. Taslitz, and Alfredoo Garcia) (Podger, Henning, Taslitz, and Garcia)
Expert Background: Rod has spent 16 years studding, taking related courses, and building Website Portals. He joined Twitter in 2009 and took a social media class at UNLV where he gained expertise in using, building and the functionality of Twitter list. He started building Website platforms and portals around 2003; so Rod was already advanced in Platform building before joining Twitter. Twitter was just another platform made available to the public to use. The folks at Twitter were very courteous and polite to Rod. So Rod made Twitter list Great, but Twitter list did not make Rod. He was already great at what he did. As Rod progressed with list over the years, Twitter made changes so the product better suited what Rod was doing. Rod never had his accounts suspended, never had any warnings against him creating list, he never was said to have violated any abusive behavior policies, he attempted to stay within the guidelines that they made visible available, and if did violated any, like he said, he was never approached as a developer to be in error of them before he decided to close all his Twitter accounts. Around 2016 before the election, Rod posted several times that he would be retiring from social media, but he has been dragged back into ever since. His plan debated whether to leave some list up passive to run to eternity, or the life of the Company, unless format changed or to close the list to not have to monitor them. His mind was made up when he thought a person working with a network on Twitter were trying to frame him with things put into his list beyond his control that he could not remove that were not appropriate. He caught them. And just like that scumbag girl at UNLV voice message he recorded tried to change his tax situation, and those at the Veterans Hospital backdating a false fabricated document with lies working with this network of individuals, Rod shut down all Twitter use and list before they succeeded in damaging his long time work on Twitter. Anything said other than that about Rod using Twitter, would be after the fact lies, and have to be the scumbags that were trying to frame him, now working after the fact of him Closing His Account and List at His Own Will. Rod was the King of Twitter at developing new ideas and concepts building list and many people new that. In his opinion, when he quit, it was a major loss to Twitter and their users.
12/29/2018 Someone created a Twitter account called doctheshow / disorderly conduct; Rod never had a Twitter account named @Doctheshow and someone put this in his google search ranked pretty high for a closed twitter account; Rod has not used Twitter since 2017 or so and they still trying to Frame Rod with false information. Real scumbags creating fake news; yes done with malicious intent to cause harm by at least two people; it did not get listed in high ranking google search by itself. Please remove google people. And no, all those images tagged as Doctheshow.com under "images google" are not tagged by Rod. Rod does not tag, descriptive tag, nor 'Alt Tag', nor "Meta Tags" images on the internet or his Websites; and he does not see most of them as being related to doctheshow.com. Thanks. But, no thanks whoever tagged those hundreds of images to make them show up. And some other fake news SEO ranked high on google has twitter information on DOCTHESHOW.COM which @doctheshow was never on Twitter; at least not an account I formed. It uses data from a black_history account, which should have been around 4000 posts and not 47 posts, kind of mixing up the data, as if it were data taken from doctheshow.com and from doctheshow music blog page closed in 2016; but it was not. Rod will be checking in on occasion to update what these jokers are up to next. A lot of what is going on is not just bias; maybe fabricating false data, fabricating false evidence, fabricating false accounts, irrelevant data from old Web pages, and then misusing them, planting this evidence using algorithms into top searches. Rod thinks this is corruption by someone working for social media companies, etc. or maybe embedded law-enforcement or government workers, maybe a network of "dirty cops? If so." Framing someone is a criminal offense.

From Rod's memory, Rod never had an account named: https://twitter.com/DOCTheShow and certainly not disorderlyconduct. Rod has never been accused of any disorderly conduct in college, high school, work, or business. Not in Rod's repertoire of Character. Unless, you are extreme to consider education itself disorderly. People banned and burned the Bible, Text Books, Truth about History Books, and many more, in many countries in history. Very extreme people still exist today who consider or view the idea of Truth or Education disorderly, maybe disorderly conduct.

This account [tag named: DisOrderlyConduct @ DOCTheShow / Twitter, The latest Tweets from Disorderly Conduct @ DOCTheShow] is not related to Doctheshow.com, neither now or in the future if opened by someone else. Rod has not used Twitter since 2017 and has no plans on using the platform in the future. Retired.
"Add an Image to Google."
Google
, Google, support.google.com/websearch/answer/175288?hl=en
"How Does Google Rank Websites?"
SEO Mark
, 20 Sept. 2018, www.seomark.co.uk/how-does-google-rank-websites

Halpern, and Sue Halpern. "The Search for Anti-Conservative Bias on Google."
The New Yorker
, The New Yorker, 19 Dec. 2018, www.newyorker.com/tech/annals-of-technology/the-search-for-anti-conservative-bias-on-google
"During the hearing, Republican members of Congress kept coming back to this question of anti-conservative bias, only it wasn't much of a question. ""But an algorithm built without favoring one political party or another, or constructed without intentionally championing a particular ideology, is actually designed to deliver culturally biased results. A search engine runs on algorithms and artificial intelligence to instantaneously sift through the Internet's nearly two billion Web sites. Google's engineers have embedded something they call "authoritativeness" into their search algorithm to deliver its results, though what this is, exactly, is challenging to understand, because it appears to be based on a tautology: an authoritative source is a source that a lot of other sources consider to be authoritative. "

Pierson, David. "Facebook, Twitter and Google Have Become Political Footballs for the Left and Right. This Week, Congress Get Its Kicks In." Los Angeles Times, Los Angeles Times, 4 Sept. 2018, www.latimes.com/business/technology/la-fi-tn-tech-bias-hearings-20180904-story.html ""I think what Google and what others are doing, if you look at what's going on at Twitter, if you look at what's going on in Facebook ... they better be careful because you can't do that to people," Trump said at the White House on Aug. 28. The same day, he accused Google of promoting negative search results about him. "So I think that Google, and Twitter and Facebook, they are really treading on very, very troubled territory and they have to be careful. It's not fair to large portions of the population." Conservatives have adopted a hashtag on social media as a rallying cry: #StopTheBias. "




Screenshot: 12/30/2018 Content: Google Search https://tinyurl.com/y9ykeb82

DocTheShow.com was last archived on December 20, 2018 at https://web.archive.org/web/20181220173306/http://doctheshow.com/
But, suspiciously, the misused attached to Rod's show top google search? Twitter account https://twitter.com/DOCTheShow has no evidence here of being open for very long but ended up as a top google search prize: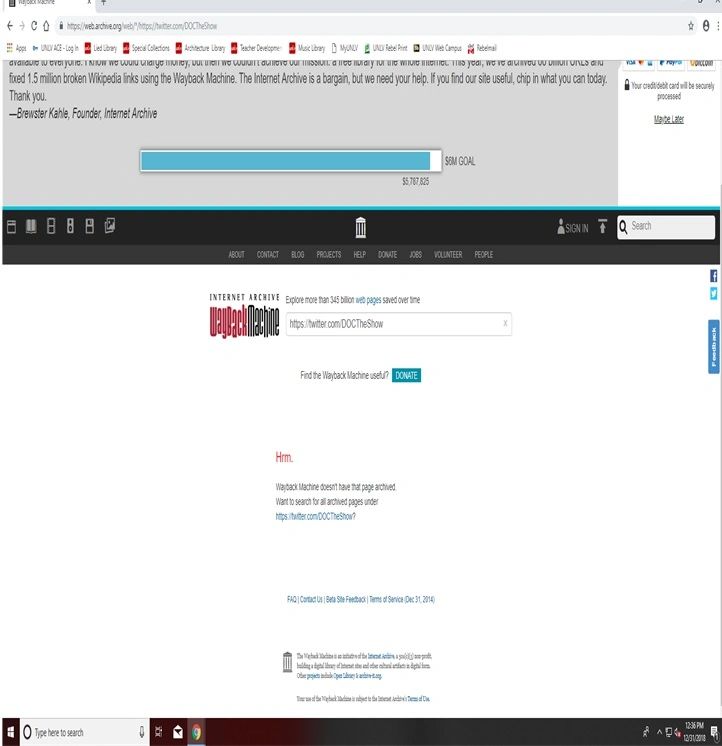 Screenshot: December 30, 2018: https://web.archive.org/web/*/https://twitter.com/DOCTheShow